Can you remember the last time you laughed so hard you cried?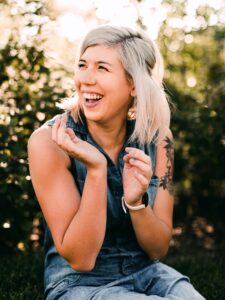 You know, that laugh that you can't control, sometimes without even making a sound. It comes from your gut, and seems to go on much longer than you thought it would.
It is healing, and brings joy.
I truly believe it is one of the most healing things I know of during dark days and hard times.
During my hardest days I remember by brother-in-low telling me, "Jan, my job is to make you laugh." He did a great job, and it worked.
I laughed a lot. I am what you might call a serial laugher.
But my laugh brought a hard side with it. You see, I had been told for many years that my laugh was too loud and obnoxious. One person … one person told me, and unfortunately I listened to that person.
I tried to keep it in, to laugh quietly. Let me clarity that it doesn't work.
Your laugh comes from within. It's your unique humour. What you find funny. What brings you joy. It is often based on what you have experienced before and can relate to.
Like those stories you share with good friends and no one else knows why you are laughing …
Last year as I vacationed with friends I had what you might call a laughing fit. Ever have one of those? I couldn't stop. I couldn't explain exactly why I was laughing, well, I knew but was too embarrassed in the moment to tell the others why I thought it was so funny. Although, by the look on our friends face, he knew and was thoroughly enjoying my awkwardness.
Honestly, I am not sure who enjoyed my laughter more, me or them.
But wow, did I feel great at the end of the laughing session. I was wiping away tears, and blowing my nose, trying to recover from my spontaneous and deep laughter.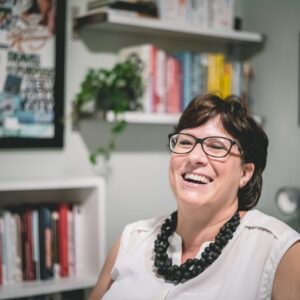 They say that laughter is the best medicine and I believe it.
Laughter carried me through those hard days and helped me to see joy in my life when I wasn't feeling it.
How's your laughter? How often does your laughter bring you the joy that you have feel is lacking.
Maybe you're not laughing enough, and definitely not as often as you would like.
If you're missing it, it is time to find it.
Here are some ways you can find laughter:
watch a great comedy movie
youtube bloopers (my personal favourite is Family Fued bloopers!)
connect with a friend that makes you laugh
Let those who love you in on the fact that you need some laughter
go to a comedy show
read a book full of funny stories.
If you need some, go get yourself some. That's the thing about joy. It doesn't always find you, Sometimes you need to go find some.
Not only that, but laughter is contagious so you will bring joy to others at the same time.
And don't listen to those blocking your laughter … I bet they are few anyway.
If you are enjoying these blog posts and want to be the first to get them, click here to subscribe to our email list for lots of free content and inspiration.